I love my Bullet Journal and I have my friend, Kristie, to blame. (I can actually blame her for a few things…). And I can be blamed for getting a few of my friends hooked.
But I've had a few people ask me what a bullet journal is and how some of my layouts help me. So I thought I would go through mine.
A bullet journal is an analog system for a digital age. It is essentially: a) a journal; b) a task list; c) a place for notes from meetings, etc.; d) a place to house some collections like Movies to Watch, Bills to Pay, Projects to Knit.
A bullet journal can be as simple or as complex as you want it to be. It is made to work for you! And what's a bonus is that in the end, you'll have a journal that shows things you did and maybe even has some musings or life happenings sprinkled in.
You can find more at: http://bulletjournal.com/. And you can always find layout ideas on blogs everywhere, on Pinterest and even just a google image search.
So, let me show you mine! (Click on any of the images to make them bigger. I've whited out private information…hopefully)
First, the journal. I was using a Moleskine, dot grid. But it's not as wide as I would like. So I switched to a Leuchtturm 1917 dot grid. It's an A5 width, as you can see below.
The start of a bullet journal usually consists of an index to help keep it organized (another nice feature of the Leuchtturm is that it's page are numbered and it has a table of contents built in.
I do my book slightly differently, in that I place my collections in the back of my book and work backwards, while my daily journal starts at the front. So split my index accordingly.
The next two spreads are similar. I like to do a Year At a Glance, for an overall picture, or if I need to quickly add something. I have both 2017 and 2018.
I then follow these with my Months. I start with a "Hello! [Month]" page. This allows me to quickly add any important things I wrote down from my year-at-a-glance OR to add items I need to make sure to add into my weekly view as I create them.This also lists the day of the week (M, T, W, etc.) so that as I create the pages I put them in the right order.
I used to have a Monthly Goals Layout following this. But I never really kept track as much as I would have liked, so it looked empty.
Instead, I know follow the Month Intro page with a Time Log. (I used to track this above each day, but it was harder to see the patterns.
With this layout, I've found it easy to see patterns in my activities and better plan. I now realized that if I don't go to sleep right away after work, that I tend to crash around 6/7 or I need a nap (So I shouldn't tell my friends I'll see them online later to play WoW). I like to knit while watching TV, I don't do as much design work as I'd like throughout the week (I tend to procrastinate) and I don't read as much as I would like.
I then follow this page with my weekly layouts (one week per spread or two pages). So it's like a "week-at-a-glance".
This is the main part of my book. Here I not online list events (circles), appointments (triangles) or to do items (squares), but I list things that happened, how I feel, something that bothered me, or cool things that I might want to take note (all small dots). The below images show my progression on how the layout changed over time.
I also add washi tape to coordinate specific things that span multiple days. For instance peak at work, when I cannot request time off.
I've also created tab stickers to put on my book to easily find the months I need. Totally optional.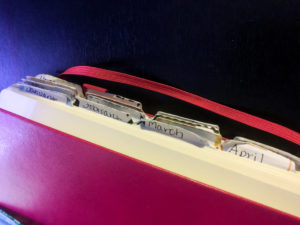 Now onto collection. I don't keep all collections in the same journal. For smaller lists, I keep them in this journal with my other stuff. Or items I know I need more handy. But for larger collections, I have a separate journal for meeting notes AND a full-sized journal for larger collections (like Knit Projects). These are some of the collections I have:
Then finally, wherever there is space, I decorate. Cause…I'm me and things need to be cute and artsy.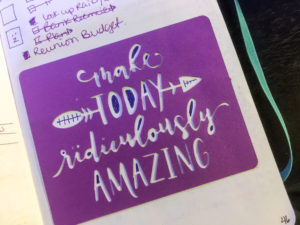 So, that's my journal so far. It comes with me everywhere I go. I even bought a few 31 Gifts Tote bags to keep things together. The first bag is their Swap-It Pocket. This lets me hold two small journals, pens, washi tape, markers, and some stickers. I can then toss it in my larger bag or take it out for my "to go" bag.
I then have their All-In Organizer. This fits the Swap-It Pocket perfect and has room for extra pens/markers, a box of washi-tape, my larger journal and some other supplies. Plus mesh pockets on the sides for headphones, my phone, keys, etc. I take just this when I just need to work on my journals at the coffee shop.
So, there you have my journal. I hope this helps you decide if YOU want to start a bullet journal and become a "bujo junkie" like me.
Oh gosh. Pens. I LOVE my Pilot Metropolitan pens. I have both a Rollerball and a Fountain Pen in Medium Point. The fountain pen writes SO SMOOTH and I have LOTS of fountain pens. I also use the Staedtler triplus fineliners (they are dry safe).