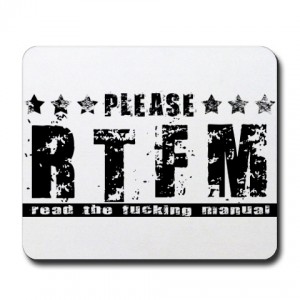 Seri­ous­ly? When did I become every­one's tech sup­port? I have had five peo­ple con­tact me this week­end alone about their tech issues.
Sad­ly, this has been going on for years. What annoys me more is when they do it in per­son. Peo­ple just assume I will help them. They just start telling me their issues and expect an answer! They don't even "ask" if I can help them with some­thing, they just expect me to do it because I am right there.
It's just so aggra­vat­ing. I mean, first of all, (to sans Dr. McCoy) I'm a Graph­ic Design­er, not an IT guy. I don't get paid for that.
Sec­ond, if I am not "phys­i­cal­ly" there, and can "see" for myself, I can't help you. I can't do it over the phone and men­tal­ly under­stand what you mean.
Third, I have a very busy and com­pli­cat­ed life. I can­not just drop every­thing and help you with your prob­lems. I have my own to deal with.
Last­ly, if your hav­ing an issue with some­thing, read your manual…look in the trou­bleshoot­ing sec­tion and see the part that says "Cus­tomer Support"…with a phone number…call them…they are going to know before I will whats wrong…and hey, they get paid for help­ing you…I don't!
(P.S. Mr. T…if I ever call you again for tech support…just throw a large heavy object at my head).