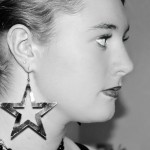 I can't believe your turn­ing 15 today!
I remem­ber the day I first met you.
I remem­ber you hunt­ing around my room and tak­ing every­thing that I had that was Tig­ger (large plush Tig­ger, Tig­ger back­pack, Tig­ger Pil­low, Tig­ger Slip­pers, and even my Tig­ger desk clock) and hoard­ing it all under my com­put­er desk in a Tig­ger nest. I knew that we were going to be fast friends and have so much in common.
From their you became my "laun­dry bud­dy". I would pack up the car with all our laun­dry and we would head out to my par­ents house and do laun­dry all day and watch movies and play all over their house and rum­mage through their pantry and find good stuff to eat.
As you grew, I got to enjoy bond­ing with you over many dif­fer­ent things.
I got to share with you my love of Dol­ly Par­ton's music and even take you to a con­cert. I got to share with you my Won­der Woman comics and TV shows, and even my love of 80's Car­toons (oh, the Sat­ur­day Morn­ings, snug­gled in bed watch­ing Trans­form­ers Beast Machines!!! You would kick mom­my out of bed and we would watch the lat­est episode togeth­er. Just you and me. I trea­sured those mornings.)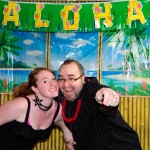 But the thing I have come to love shar­ing with you is cre­ativ­i­ty & Art. Watch­ing you devel­op your tal­ent and help­ing you where I can is so pre­cious to me. It's some­thing that my great-aunt was able to share and inspire in me (and some­thing I trea­sured lat­er in life), and now it's some­thing I am now able to share with you. (And the day you want­ed me to install Adobe Illus­tra­tor on your com­put­er, I just melted!)
See­ing you become this cre­ative being with such nat­ur­al tal­ent made me so proud (not that there was­n't a lot to be proud of already, this was a very nice bonus.)
You have grown in to such a won­der­ful woman, with a great heart. You make me so proud. I just know that watch­ing you grow for years to come will be an amaz­ing thing to behold.
I trea­sure the rela­tion­ship we have (and yes, even love the sar­casm and wit you throw my way…even though I don't get half the jibes or words you use…) and I would­n't trade it for the world.
So, Hap­py Birth­day baby. Here's to many more amaz­ing years ahead of you!