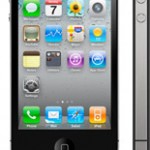 Amy has need­ed a new phone for a few months. She has had my first iPhone (the iPhone 3G) since I upgrad­ed to the 3Gs last year. So her phone is two years old.
Since the begin­ning of the year (maybe ear­li­er) its has been giv­ing her prob­lems. The touch Screen does­n't always acti­vate for her, she'll miss a call cause it nev­er rings, or vibrates; and a host of oth­er issues.
So we were going to upgrade her, but we knew a new one was spec­u­lat­ed for this year, so I told her to wait. So she has been waiting.
So when the release date was announced, we decid­ed that we would go pick one up. There was no line for the 3Gs last year when we strolled in around 10am, so I did­n't think it would be a big deal. Boy was I wrong. (If you fol­low along with the map, I am num­ber­ing spots I talk about)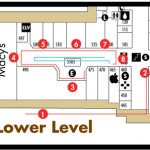 Amy drove me to work, so she could pick me up and we could go to Rosedale to pick up a phone (I work near Rosedale, and I don't think she quite trust­ed me to make sure to upgrade her phone and not mine.…)
We arrived at 6:40 am, and there was already a line out­side of the mall entrance near The Apple Store. But it did­n't seem bad and I was­n't sure how it looked inside. So we got in line (1).
They start herd­ing us into the mall and escort­ing us where to go. They broke us into two lines. Reserved and Non-Reserved. I tried reserv­ing one for a week, with no luck. (I heard from some peo­ple who reserved online, got a con­fir­ma­tion screen, but no email…)
They put reserved on one side of the hall in the entrance and use on the oth­er­side (2). I leaned over and told Amy it felt like we were the uncool kids sit­ting across from the cool kids.
They then took us around the cor­ner and parked us in the actu­al non-reserved line. (3). We were near the end, and not too many peo­ple came after us (about 40?) . Peo­ple came and went all day behind us, but we were near the end. They offered water, bagels, and cof­fee through­out the morning.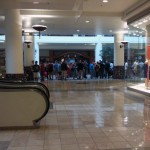 Mean­while the reserved line got to go in the short­er line (the blue line) which start­ed near The Apple Store, moved towards Macy's then looped back toward The Apple Store. This line moved fair­ly steady all day.
We slow­ly shuf­fled around, some­what steadi­ly and got to (4) at about 9:15, when Amy had to leave for her appoint­ment. From this spot, I spot­ted a high school mate, Liz, tak­ing pho­tos of the line from the upper lev­el. We chat­ted on and off through Face­book all day.
Some guy tried to cut in line behind me at this spot, by strik­ing up a con­ver­sa­tion and ask­ing me which line was which. I kind of rude­ly told him where every­thing was and he went on his way.
At around (5) Amy checked in to see if I had moved past "Tren. D. Home" store (which we joked I would still be at when she was done with her appoint­ment). I was…This was bout 11:30. The See's Choco­late kiosk opened and the lady came around with free sam­ples, which was nice.
Around (6) is when the line stopped. Spec­u­la­tion was that AT&Ts acti­va­tion servers were slow­ing down as more Time Zone's came online and more stores opened. So for about an hour or so, noth­ing happened.They also informed us that the 16GB were all gone, and only 32GB were left. Amy also called and let me know she was­n't com­ing back. (She had plans to take the kids to her Uncle's Cab­in for the day and every­one was wait­ing for her). But she arranged for my dad to pick me up when I was done.
By this time my feet were killing me (I wore the wrong shoes) and my back was so sore. As we neared pil­lars, the 3‑seater bench­es were hot com­modi­ties, peo­ple would spin them around the pil­lar to be clos­er to their spot in line. I tried to sit when I could. With my weight, I can't just sit on the floor, I need some­thing lean against. So I would lean against a pil­lar when I could. Three times I almost pulled a mus­cle in my foot. Like when you over extend your jaw when you yawn, and you pull a muscle…that same feeling.
Then the line slow­e­ly picked up. The Apple Store Guy's kept com­ing out and mak­ing updates, talk­ing with us and try­ing to keep every­one in good spirits.
By (7), we were going on 6 1/2 hours! We were all friend­ly with each oth­er in line, would hold each oth­ers spot for bath­room breaks, and a few peo­ple would even make drink runs "on them". We joked about the line and the peo­ple, chat­ted about our lives. We even had "mile mark­ers" in the Reserved Line so we could keep tabs on their progress. There was a guy dressed all in black with Red Shoes, so we joked we were on "Red Shoe Watch" and would watch his progress in line. At this point too, The Apple Store guys came around with carts full of Green Mill Piz­za and pop. What a gesture!
Also, we found an Apple Guy that we nick­named "Buz­zkill" as he was the real­is­tic down­er of the group. He came in and told our sec­tion that "some­where in here, is where we will prob­a­bly run out". But we were all committed.
So they start­ed tak­ing our infor­ma­tion and put us on a Pri­or­i­ty list, so that when they get anoth­er order, we get first dibs. (He was even using an cool app on an iPod Touch built just for this!).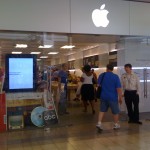 So we wait­ed for anoth­er two hours, and by the time I got be the fourth from the door (8), they came out told us that they were sold out.
We were all stunned. All we had known for the past 8 hours was stand­ing in line. I had just told the guys that I felt like we were all fam­i­ly! The Gay guy behind me agreed and asked whose house he was going to for Christ­mas. So we just stood their. I thought the lit­tle Asian Lady, who was three in front of me, and the VERY NEXT per­son in line to get a phone, was gonna pass out! We were all so shocked and crest fall­en, that we did­n't move. We were all wait­ing for them to tell us their were kid­ding, or for some­one to make the first move. The Gay guy went bal­lis­tic, he was so mad.
So, I stum­bled away with my real­ly sore back, my sore legs and feet and found the near­est emp­ty bench, and sat, called my dad and waited…I was tempt­ed to do some ther­a­py shop­ping, but my feet hurt too much to move.
But, in the end, I was glad I did it. I have nev­er wait­ed in line before like that. Not for tick­ets, not for any­thing. So I was glad for the experience.
And, Amy treat­ing me extra spe­cial today for all my hard work, is very nice too!